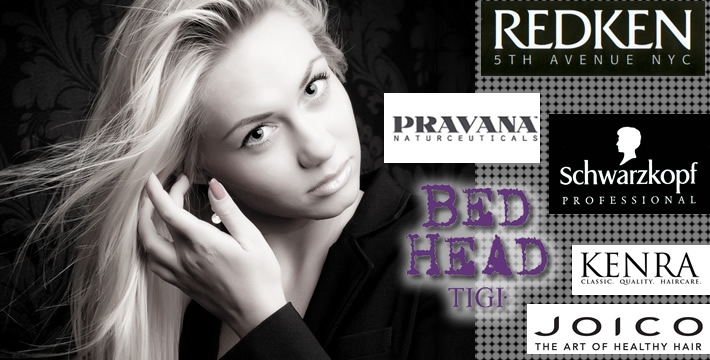 Redken Our commitment to formulate scientifically superior products for the global salon community continues, and as we forge ahead in the millennium, our awareness of fashion, street trends and modern hair needs will only enhance our scientific strength.

Pravana ushers in an entirely new era in hair care. Our highly sophisticated formulas utilize both the power of nature and the strength of technology to provide a new hybrid of superior hair care products which are in effect, super-natural.
Pravana is a hair care and style collection created by stylists - for stylists. Pravana founder and president, Steven Goddard, has employed his vast professional experience as a product innovator and professional stylist to create a collection of products which anticipate and deliver on the true wants and needs of today's progressive salons and their clients.

Schwarzkopf stands for innovation, reliability, quality, trust and competence - these are the foundations on which our business thrives. We are driven by a passion for creating beautiful hair and this is reflected in each of our products. In addition, our ASK Academies and Studios are recognised centres of excellence that inspire and educate hairdressers around the globe.

Bed Head It's about progression. Keeping the art of hairdressing fresh. Dynamic. Alive. Balancing expression and invention - with the skills and precise technical understanding that set creativity free.

Kenra products are distinguished by using a blend of pharmaceutical-grade and cosmetic-grade ingredients that provide extraordinary performance. Our products are highly recognized for reliable, consistent performance and have universal appeal and application.

Joico We eat, sleep and breathe beauty. We develop innovative, top performing hair products for healthy hair. We design artistic imagery that inspires creativity. We surround ourselves with the most gifted artists and educators in the salon industry. We are 100% committed to the advancement of the global salon community. Why? Because beauty isn't our job - it's our passion.